Our Lineup
The road ahead is full of adventure.
Welcome To Nate Wade Subaru
There's more to our dealership than just sales and service. Visit our experienced Parts Department to find all the high-quality factory parts to keep your car running smoothly, and if you're looking for our best financing options for your next vehicle, our top-notch Finance Department has you covered.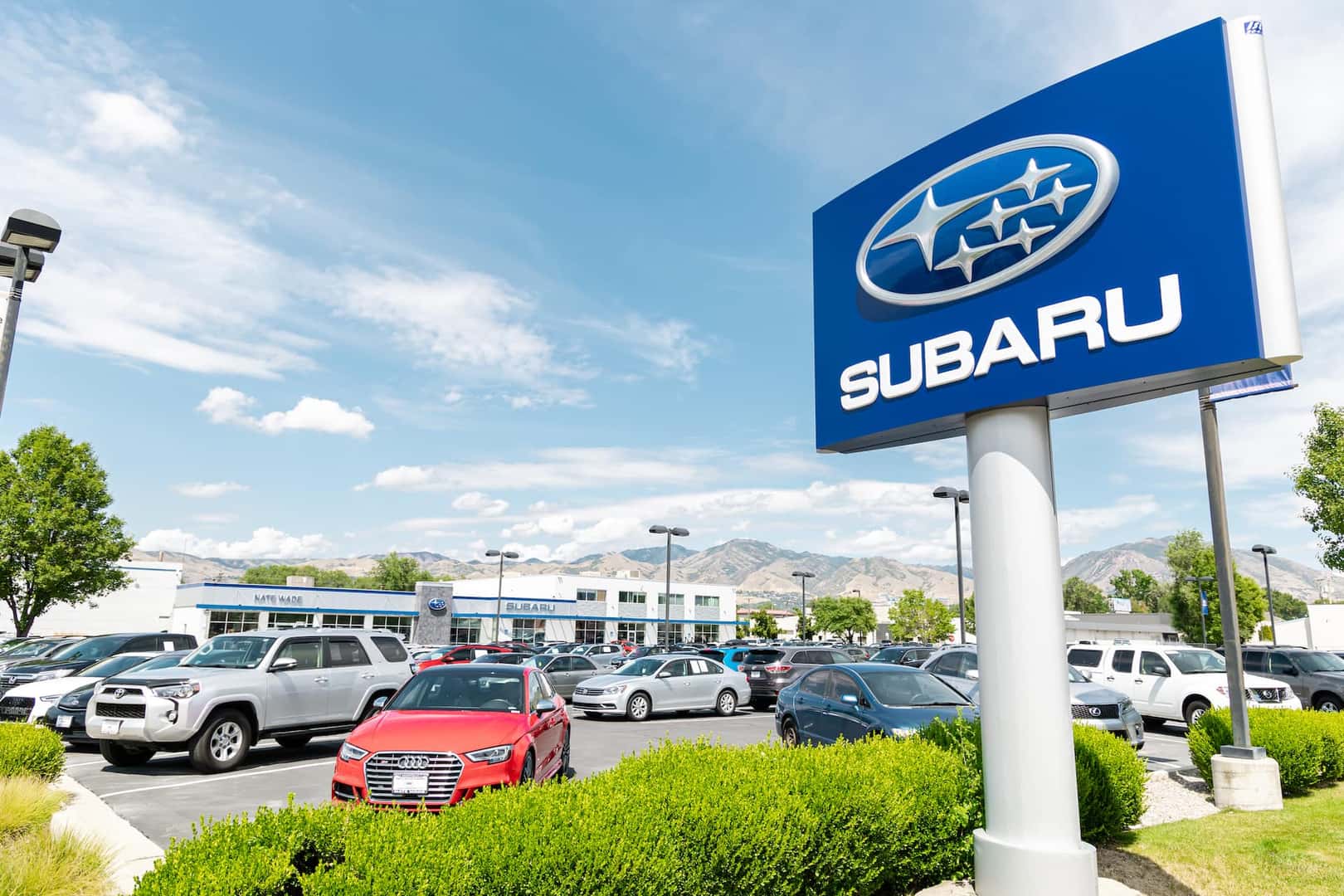 New Subaru Vehicles for You
Step into a new Subaru that can handle anything the roads of Salt Lake City might throw your way. Our expansive inventory is always available for you to peruse in store or online so you can check out the latest and greatest models from Subaru. Improve your daily commute or upgrade your offroading powerhouse with any of our new models. Not only do we have a diverse inventory for you to explore, but our knowledgeable and caring staff is always available to help answer any questions you may have. Whether you check us out online or dig through our inventory in person, we've got you covered from the moment you contact us. When you are ready, stop in and experience the capabilities of the newest Outback, the sleek BRZ, or the eco-friendly Solterra EV. Take on a more classic ride with the Forester or the capable Legacy and see just what a Subaru can do for you.
CPO and Pre-Owned Vehicles
Get a new-to-you ride without incurring a high-dollar price tag. We have everything you need from Subaru in the preloved market, including excellent options for Certified Pre-Owned models. CPO vehicles are held to a higher standard than traditional, run-of-the-mill used vehicles. CPO rides return to our lot and earn the coveted title of "Certified" after undergoing a series of rigorous tests and any necessary repairs. Once they pass all related tests, they return to the market as a CPO vehicle. These models usually offer lower mileage and are newer model years, so you're getting the most bang for your buck.
Aside from our CPO inventory, we do offer a vast selection of preloved rides to outfit you with a new daily commuter without breaking the bank. Our pre-owned lot offers a variety of models to choose from, so you can find a ride to fit your fancy. Just like with new models, we offer a test drive and our knowledgeable staff works to offer answers about any questions you may have. Get the most out of your budget by exploring the preloved section of our dealership here at Nate Wade Subaru.
Trade-In Your Vehicle at Nate Wade Subaru
Swap the old for something new with our easy to manage trade-in option here in Salt Lake City. Getting a new ride means you'll have to figure out what to do with the old, and when you choose to trade-in with us, we'll take the hassle off your hands. We value your trade-in based on a multitude of things, including wear-and-tear, year, mileage, and more. Our trade-in evaluation is a no-pressure service, and we won't force you to accept an offer made by us here at Nate Wade. We make the offer after assessing your ride, and it is up to you whether you take it to use towards your new ride, or pass on the trade-in offer.
Service Your Vehicle with Us
Our relationship doesn't need to end once you've purchased your ride. Maintaining your Subaru is part of keeping it running for years to come, and our experts are here to help keep your Subaru performing in peak condition. Extend the life of your ride and take advantage of the knowledge of our factory-trained and certified technicians, as well as benefiting from genuine Subaru parts and accessories. Your ride is made to go the distance, and we want to help extend the longevity of your vehicle for years to come. When you utilize OEM parts and accessories, you're going for replacements and upgrades that maintain the high level of performance and care that Subaru is known for. There's no hassle with generic parts not fitting when you choose genuine Subaru products, and since our technicians are trained in the ins and outs of Subaru engineering, they know a thing or two about getting the job done right. Trust us to give your Subaru the care it deserves here in our service center.
Financing Options with Us
Don't stress the dollar signs more than you have to. Finding a financing option that fits your current lifestyle and won't create a detriment that you can't escape is a big deal, and we're here to help. Our finance department is well versed in the most common loans and payment options available, and we have good relations with several banks in the area to help make the process as seamless as possible. If you're concerned about the details like monthly payments, down payments, and interest, our team is in the know and we're happy to give you a rough breakdown so you have an idea of what you're looking at even before you find the Subaru of your dreams. Give us a call today.
Visit Us Today in Salt Lake City
Ready to rev down the road in your new Subaru? We're here to help! Give our website a view or stop in and see our selection in person, so you can experience what a new Subaru can do for you. The best way to discover if your pick is a match made in heaven is to give it a test drive, and we're ready to get you behind the wheel of your next great ride. Stop in or give us a call today and we'll help outfit you with a new Subaru here in Salt Lake City.