In the days before the internet, it used to be that when you decided it was time to upgrade to a new car you would take a trip to the dealership, browse the available inventory and, after a quick test drive, take your new vehicle home. There was no easy way to research different brands, trim levels, or features. If you were looking for a certain model with select features, it could take weeks of traveling to different showrooms. Luckily, this is now a thing of the past. You can now sit in the comfort of your own home while you browse our available inventory of new Subaru models. This gives you the benefit of knowing exactly what you want before you enter our Nate Wade Subaru showroom. Another great tool that you can take advantage of is our easy-to-use Build and Price tool. This allows you to discover all of your Subaru options, build it out to your specifications, and see what it will cost. You don't have to worry about losing your progress either; simply build online then continue seamlessly when you arrive at our dealership.

Shop at Home Before Stepping Into the Showroom
Starting your build is simple. All you have to do is click on the "Order My Subaru" at the top of the screen then select your desired model. You can choose from track-ready sports cars like the Subaru BRZ and WRX, the family-sized Ascent three-row SUV, midsize crossovers such as the Outback, Forester, and Crosstrek or the Legacy or Impreza sedans. Once you've settled on a model, you'll be able to choose your desired engine, transmission, and trim level. Pricing is completely transparent; you'll be able to see on the right hand side what the cost difference between each trim level is so there are no surprises. Your next step will be choosing your body color. Subaru offers a multitude of bold options including Solar Orange, available only on the BRZ, or the crisp Cool-Gray Khaki that you'll only find on the Crosstrek. If your selected model offers optional packages, you'll be able to decide if you'd like to add features such as a power moonroof, an upgraded audio system, or any of the following:
Protection and Security: Select items such as door guards that will protect the paint on the edge of your door, or a battery warmer to provide extra insulation on cold nights.
Lifestyle: You'll find carriers for extra cargo, bikes, and snowboards as well as towing accessories.
Comfort & Convenience: This is where you can add helpful items such as cargo nets and trays, and even a remote engine starter.
Style: Upgrade your new build with a sport grille, LED lighting, and more.
Pet-Friendly: For the furry members of your family, you can choose to add a collapsible pet kennel (available in various sizes), a pet harness, a padded seat cover, or a pet ramp.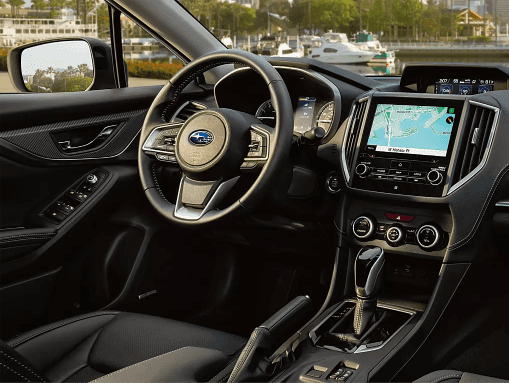 While you're building your dream Subaru, you'll notice on the right side of your screen there will be a section that keeps track of your price. If you decide you want to spend less, it's easy to remove extra packages and accessories from your build. Underneath the optional features, you'll find the payment options. You can select your desired down payment and choose your interest rate to see what your monthly payment will be as well as how much you would need to have on hand if you choose to pay in cash. If you have a vehicle to trade in, you can discover what the value of it will be and how that will affect your payment. The option to add on service and protection plans is next, including Advantage Care, GAP, and ClearShield, so you get extra peace of mind during ownership. The last choice is whether you would like to pick your new Subaru up at Nate Wade Subaru or if you would prefer to have it delivered straight to you. You can schedule a test drive of the vehicle you've built or you can hit the continue button. This latter option will allow you to enter your name, email, and phone number so we can get in touch with you by the method you request. If you have any questions about our inventory or our innovative Build and Price tool, contact us by phone or online or stop into our Nate Wade Subaru showroom in Salem where you can speak to any of our friendly Subaru experts.