The 2022 Subaru Love Promise Customer and Community Commitment Award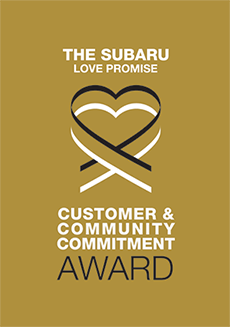 We've been nationally recognized for our dedication to our customers, our community, and the Subaru Love Promise.
We're honored to receive the 2022 Subaru Love Promise Customer and Community Commitment Award. This award nationally recognizes elite Subaru retailers who provide an exceptional customer experience at every interaction with Subaru. These retailers have also demonstrated an outstanding commitment to supporting passions and causes in their local communities in important areas such as the environment, community, health, education, and pets.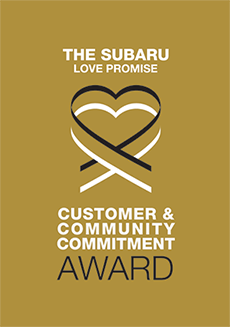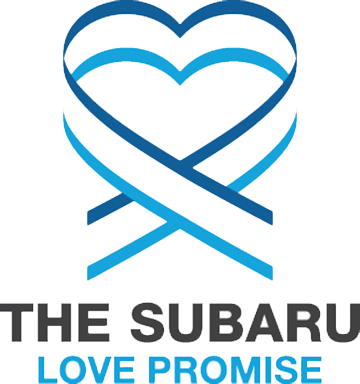 What is the Subaru Love Promise?
Subaru and our retailers believe in making the world a better place and the Subaru Love Promise is our vision of respecting all people. This is our commitment to show love and respect to our customers and to work to make a positive impact in the world.
How is Nate Wade Subaru dedicated locally to the Love Promise?
At Nate Wade Subaru, our Love Promise to the Salt Lake City area can be seen in our more than 50 years of creating valued partnerships with local organizations, built to strengthen our wonderful community.
Humane Society of Utah, West Valley/Taylorsville Animal Shelter
PBS Utah, Don't Be A Monster
National Ability Center, Utah Food Bank, Make-A-Wish Utah, The Utah Honor Flight, YouthLinc
Huntsman Cancer Institute, The 4th Street Clinic, The Ronald McDonald House
Love Promise Stories from Nate Wade Subaru
Subaru and Nate Wade Subaru believe in making a positive impact on the communities in which we live and work. We uphold that belief through our Love Promise Community Commitment. Every month, we select inspiring stories from customers and partners from around our area who strive to support our collective commitment and feature them here
Johnny's Make-a-Wish Comes True! - Carli C
Nate Wade Subaru partnered with Make-a-Wish Utah to grant 4-year-old Johnny his wish for a pop-up camping trailer! Johnny was diagnosed with Leukemia after he broke his arm and continued having pains throughout his body after his arm was healed. Johnny is an avid adventurer and loves being outdoors and exploring the mountains. Planning fun adventures to accompany his wish has been an effective coping tool to help keep Johnny's mind off hospital visits and treatments. Nate Wade Subaru was able to plan a day full of fun and surprises for Johnny and his family. The Salt Lake Fire Department stopped by with two fire trucks and took Johnny for a ride around the block. Johnny loves firefighters and was pretty star struck that the entire crew came to see him. We had a great magician show and Johnny's favorite lunch-hamburgers and pizza. The afternoon ended with a National Park scavenger hunt that led Johnny out to his new camping trailer! Johnny had a great time playing and exploring his new camper, he said their first trip will be to Moab next month! Make-a-Wish Utah was one of Nate Wade Subaru's hometown charities for the Subaru Share the Love Event this past winter. For each new car sold or leased, $250 is donated to the customer's choice of participating charities. Nate Wade Subaru was able to present Make-a-Wish Utah with a check for $38,000 from the Share the Love event! Nate Wade Subaru has now donated more than $160,000 to Make-a-Wish Utah over the last 6 years, granting more than 32 wishes! We want to thank our customers for making this donation possible, it will help grant many more wishes for kids like Johnny!
---
Spreading Love at the Ronald McDonald House - Carli C
Nate Wade Subaru lives up to the Subaru Love Promise vision of making the world a better place, especially as it concerns their partnership with us, Ronald McDonald House Charities of the Intermountain Area. For many years now, Nate Wade Subaru has brought light and love to families who are facing enormous challenges while navigating their child's health journey. Nate Wade Subaru has sought out and provided unique support to all the families we serve. Whether it is a special holiday concert with Kurt Bestor, performed at our Ronald McDonald House and most recently in Primary Children's Hospital, or providing support through our Stock Our Shelves program at our Ronald McDonald Family Room, they touch hundreds of lives with their generosity and make these families feel better, even for a moment. Their support has extended beyond our original partnership to inspire others to donate. Nate Wade Subaru has donated $25,000 to Ronald Mcdonald House Charities and for the past 3 years, Nate Wade Subaru has matched Facebook Birthday donations, inspiring other members of the community to raise funds for our important cause, leveraging their support above and beyond their original gift. This last year, in response to a great need we had, Nate Wade Subaru donated a 3-year lease of a Subaru Forrester to ensure that the families staying at the Ronald McDonald House had safe and reliable transportation to and from our area hospitals. The Nate Wade Subaru Shuttle is vital in the transportation support we provide to the families at the Ronald McDonald House and connecting them safely with their child's medical needs. So, on behalf of the families served by Ronald McDonald House Charities of the Intermountain Area, we thank Nate Wade Subaru for their generous partnership and support of the programs that help us keep families together and close to their child when they need support the most!
---
Best Possible Customer Service! - Regina M
I would just like to say how much my husband and I appreciated the great service we received from Jeramiah Hoopes. He treated us with the best possible customer service. He's very knowledgable and he made us feel special. My husband has had a stroke and has difficulty writing. Jeramiah was so kind. When we were filling out paperwork he noticed my husband struggling and he immediately offered to help him. He was so conscientious and intuitive. We had to order the car and Jeramiah was so good to keep us informed about the status of the arrival. I will highly recommend him to my family members and friends who are also interested in purchasing a Subaru. It was such a pleasure dealing with him. He's such a nice person.
---
Erinn's Wish for a Tree House - Carli C
Nate Wade Subaru was thrilled to team up with Make-a-Wish Utah for their 5th Wish Proclamation! Erinn is 9 years old with a heart condition, she is extremely adventurous and has always wished for a tree house in her backyard. Nate Wade Subaru was able to plan and host a special night for Erinn and her family to escape treatments and hospitals for a bit and celebrate Erinn. The waiting area was transformed into a tree house with balloons, lanterns, blankets and cushions. We had catered dinner, face painting, photo booth, and a story teller that took us on an adventure! The night ended with Erinn finding out her wish for a tree house was coming true! To top the night off, Nate Wade Subaru presented a check to Make-a-Wish Utah for $10,000 to help them continue granting wishes like Erinn's. "Erinn is LOVING her playhouse. She spends every spare minute she can in that little house! One of her favorite things about her Wish Day was the surprise visit from Elsa. She was also surprised that her house had furniture, including a white couch! She didn't think she'd ever have a white couch. The loft is her favorite place to hangout with her sisters and friends right now. We can't thank you all enough for this wonderful gift! She is floating on cloud 9!!" -Jessica (Erinn's mom)
---
Pantry Packs for Students - Carli C
Nate Wade Subaru teamed up with Bountiful Food Pantry to provide 3,600 pantry pack meals to students in need. Each weekend, 17,000 kids in the Davis School District go hungry over the weekend when they don't have access to school lunch. Pantry Packs provide up to three pounds of food for these students to eat at home. Nate Wade Subaru was able to give $10,000 to the Bountiful Food Pantry to pay for the supplies and food needed for the pantry packs. Over a three month span, our employees stayed after work to assemble 3,600 Pantry Packs. Not only was it a great team building activity for our employees but a great way to give back to our local community. Thank you Bountiful Food Pantry for providing us with this great service opportunity!
---
Don't Be a Monster - Spencer T
As part of a large educational commitment in anti-bullying curriculum, Nate Wade Subaru has been the presenting sponsor of a nationally acclaimed anti-bullying assembly based program throughout the state of Utah, co-presented by Fear Factory Haunted House. Nate Wade Subaru donated $10,000 in 2019 to help kick-start this program and another $10,000 in 2020 to extend the reach of this program. To date, the 'Don't Be A Monster Program has reached nearly 20 schools who have participated in the assembly and follow up in-classroom homework/lessons either in person or digitally (due to COVID19 safety efforts), which have resulted in data driven results in reducing bullying in schools, increased learning and attention in the classroom, and assisted in overall mental health development for students in grades 4-8. The Utah programs facilitation partner, The Inclusion Center, who is a local non-profit and has over 85 years of inclusionary and anti-bias history. We're building partnerships with local school districts to triple our local assembly delivery by 2022. Nationally, this program reached nearly 900 schools, been presented to nearly 400,000 students and with a 98.14% school rating of the success of the program. We're beyond thrilled and thankful to have such a vital sponsor, and dedicated education partner, to help us reach and impact our greater Utah community with such enormous success. Thanks Nate Wade Subaru!
---
Make-a-Wish Limitless Supercar Shootout - Carli C
Nate Wade Subaru continued their longstanding and impactful support of Make-A-Wish Utah by sponsoring the Limitless Supercar Shootout, which raises funds to grant wishes for children with critical illnesses. This is a one-of-a-kind, high-class event that features 40 of the rarest exotic cars in the region attempting to reach top speed while accelerating over a 3-mile stretch of highway. The high speed was over 200 MPH. Because of COVID, the event was closed to the public this year but broadcast via Facebook Live to thousands of viewers. The highlight of the event was that the race care drivers drove by three homes of wish kids and did a honk and wave. The wish families and their neighbors loved seeing the rare cars on display. Nate Wade Subaru's $10,000 sponsorship was an integral part of the event's success and helped Make-A-Wish Utah raise more than $60,000 for wishes.
---
A BIG Thank You to the Salt Lake Health Department - Carli C
The Utah Health Department has been instrumental in Utah's fight against Covid-19. Contact tracers have been working around the clock to find out where Covid-19 is being spread from. These workers have not been receiving the same recognition as the other heroes helping to fight this pandemic. Nate Wade Subaru wanted to make sure that the employees at the Salt Lake City health department knew that we have seen the work they are doing and we appreciate it. Nate Wade Subaru sent in Thirst Drinks, a local company, to treat the employees at the Salt Lake Health Department. Each employee was able to order a customized drink and treat to enjoy! We were able to serve 100 employees drinks and treats and deliver another round of treats to employees at a different location. We appreciate the time and effort these people are putting in to keep the rest of Utah safe!Thank you to the Salt Lake City Health Department for your hard work!
---
Hartvigsen Students Love to Learn with Subaru! - Hartvigsen S
The Subaru Love of Learning donation of 150 science books has become one of the greatest resources to our school. Because our students have multiple challenges, finding appropriate books to meet all of the student's interests and reading abilities can be difficult. From the very beginning, the Subaru team worked with our school to make sure the right books would be purchased. Subaru sent a list of the books and their descriptions for our Teachers to review and determine what would work best with the students. Books with large pictures and limited vocabulary were selected by our Elementary Teachers. One favorite book is A House in the Sky: And other Uncommon Animal Homes. The Speech Therapist and theTeacher use this book with the class to teach the definition of what is a home and how it relates to Thanksgiving and family. The Secondary Teachers are using a variety of books; Trash Revolution, Bug Lab For kids, and What Do They Do with All That Poo? These help to support the functional academics of our educational program. Many of our students have jobs around the school to recycle, take care of plants, and promote hygiene programs. The Teachers use these books to teach basic vocabulary and create activities to engage our students across a variety of settings. Again, we have nothing but gratitude to Carli Claflin and the crew from Subaru. It has been great participating in the Subaru Love of Learning for the past two years. The books are beautiful and greatly appreciated. Subaru, We Love You!
---
Don't Be A Monster - Anti-Bullying - Carli C
Don't Be A Monster is a non-profit organization that works along side Haunted Attractions to bring anti-bullying assemblies to schools through out the country. Nate Wade Subaru teamed up with the Fear Factory Haunted House to bring this organization to Utah. It's mission is to empower youth to be leaders around diversity and inclusiveness, build caring communities, and to stand up for their friends and peers.This year, we were able to provide 10 schools with the Don't Be A Monster assembly at no charge to the schools with plans to triple the number of schools for 2020. This assembly has the ability to change lives, we have already heard many stories from parents, teachers, and students about how the assembly impacted them directly. Nate Wade Subaru is proud to be part of the effort to bring this organization to Utah school's because it is definitely needed. It's about doing something bigger than all of us in our community, and addressing the roots of suicide, exclusion, dropping grades, isolation and violence in schools: bullying. Everyone in these assemblies pledged to be an UPstander (instead of a bystander) and act more inclusive and respectful!
---